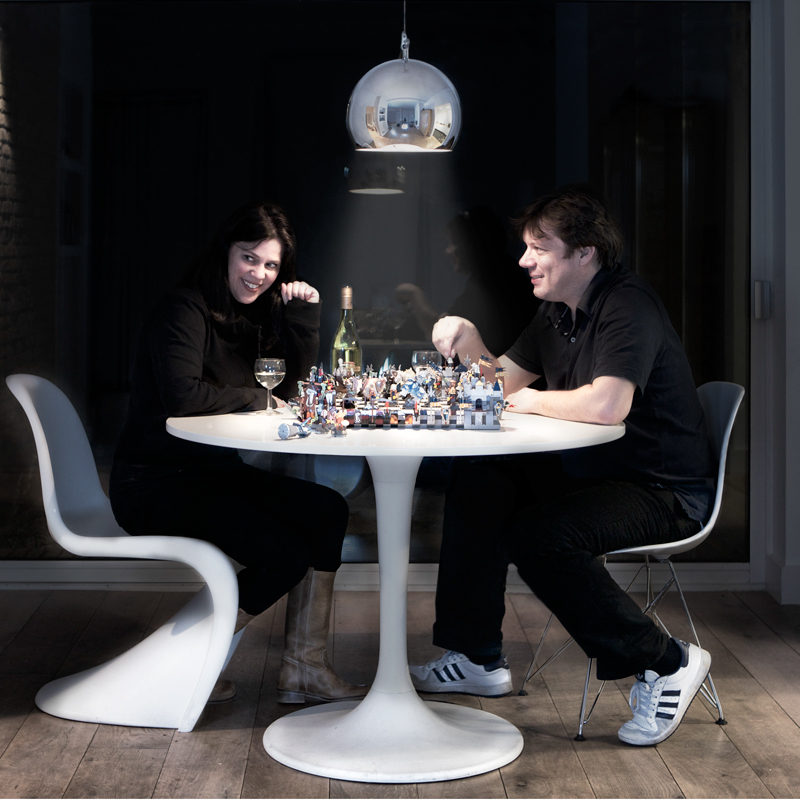 Marc Maurer and Nicole Maurer are working together as a designers duo since 1991. At the time they joined forces, both were still studying at the Eindhoven University of Technology. Both have graduated separately as masters of science in architecture and urbanism. Their cooperation is based on a common attitude: as architects, they want to investigate and redefine the borders of the architecture design field.
During the years, they have gained a wide experience in the fields of architecture, design and media. This was done maintaining a continuous attitude, as is defined in their motto: "Like children we play – not to waste time, but to learn and develop skills until we find a more challenging field to conquer." The results of their first cooperative decade were presented in a 'solo' exhibition at Eindhoven MU art space (Playtime, 2001), also featuring work by other cooperating artists like Boris Tellegen and Zedz.
In their second decade, both have focused on establishing a professional office with a larger team, more building experience and a wide range of references. Based in Maastricht, they have realized projects in the Netherlands and the nearby neighboring countries, but also in China and the USA. Their projects have been known to be interdisciplinary, but always from an architectural point of view – and always precisely detailed. Next to their own office, they have initiated the Eindhoven art and technology lab 'Baltan Laboratories' in cooperation with Geert Mul and Telcosystems.
Entering their third decade, both have decided to move their office into the famous Maastricht Van Eyck. Here they would be able to maintain their initial approach and attitude in a professional way, making use of the academy's facilities and furthermore being able to cooperate with its post-graduate researchers on a project base. During the past decades, Maurer United Architects has developed into a solid pioneering architecture practise, still investigating and redefining the borders of the architecture design field.